Are You Eligible For Dental Implants?
How Much Do They Cost?
Which Condition Best Describes You
Missing one tooth
Missing multiple teeth
Struggling with traditional dentures
Most of my teeth are in pretty bad shape
What Is The Average Cost Of Dental Implants
Implants are a great solution for people missing one or more teeth. But before you decide if this treatment is right for you, it's important to understand all of the potential costs involved.

When considering implants, it's important to factor in not only the initial cost of treatment but also the long-term costs associated with other tooth replacement options. When you do this, you'll see that dental implants offer excellent value for your money.

Generally, these are the costs you will find associated with dental implants. On average, a single tooth implant can cost between $3,000 and $4,500. For a full arch repair, the price jumps to $15,000-$30,000. And if you need a full-mouth replacement, you're looking at upwards of $60,000. While implant dentistry may be costly, it can last a lifetime with proper dental care.

At Mono Implant Centers we offer the lowest cost in West Michigan. The cost for a full arch of teeth is $24,900 to give you a point of comparison.
Schedule A FREE Consultation 616-207-7878
Dental Implants: Why There Are Worth It
When considering implants, it is important to weigh the cost against the value. Implants are a significant investment, and the cost can vary depending on the number of implants needed and the complexity of the procedure. However, dental implants can provide a lifetime of benefits.

In fact, studies show that you will live longer with dental implants as they have a positive effect on your diet. You can once again eat your favorite foods.

In addition, dental implants can help to improve your overall oral health by preventing tooth loss and gum disease.

Let's explore what it means to invest in your health by getting dental implants.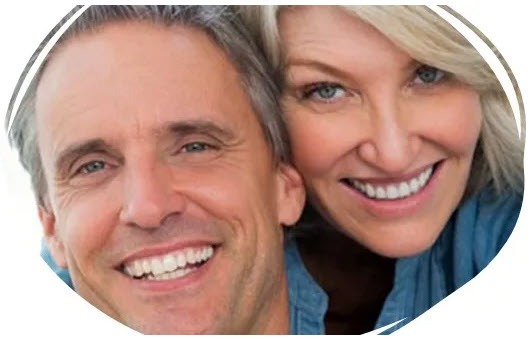 Dental Implants Could Be The Best Thing For Your Smile
Although the initial cost of implants might be higher than other tooth replacement options, they offer several advantages that make them worth the investment.

Dental implants are undoubtedly the most beneficial and comprehensive tooth replacement option available on the market. They offer a permanent solution that will never need to be replaced, unlike dentures or bridges which require regular replacements as your mouth changes over time.

Plus, these implants work to preserve your natural jawbone, an important factor for maintaining the shape of your face and preventing bone loss in your jaw. This is vitally important for keeping you looking young and healthy; without the support of a strong jawbone, our faces can become sunken, and we can start to look older than our years.

Not only that, but due to their permanent nature, dental implants offer unparalleled stability when it comes to chewing and speaking. They become rooted into your jawbone just like natural teeth and provide a secure foundation for everyday activities such as eating and talking.

And they don't just improve function; they also look great! Implants are designed to mimic real teeth so people won't be able to tell the difference between them and any remaining natural teeth you may have.

Ultimately, dental implants are one of the few tooth replacement options that can truly provide lasting satisfaction for those looking for a long-term solution to missing teeth. Not only do they help keep your face looking youthful by preserving your natural jawbone, but they also provide added benefits in terms of functionality and appearance which make them highly sought after among patients seeking oral health care solutions.

Here Is A Patient Who Receive a Full Mouth Restoration Using All-on-1 Mono Dental Implants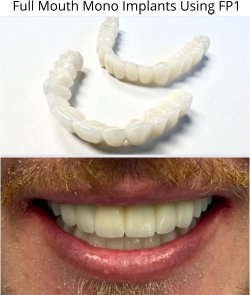 Call Today For An Appointment 616-207-7878